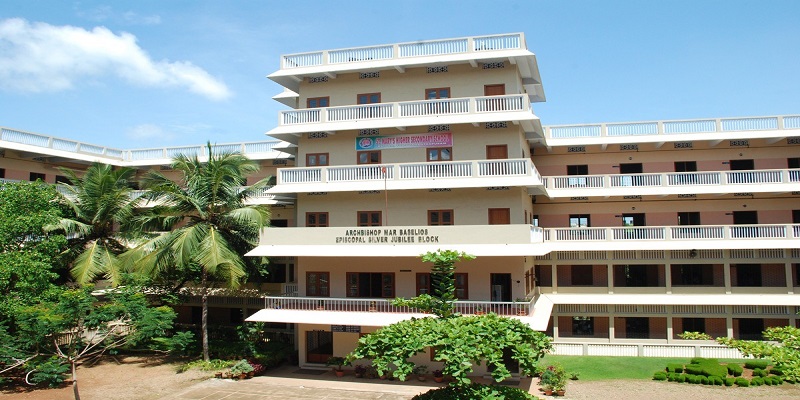 History of St.Mary's HSS, Pattom:
Born out of the sagacious vision of the 'Servant of God', Archbishop Mar Ivanios, St. Mary's Higher Secondary School has been a paragon of academic excellence in the seven decades of its existence. The school girdles the hillock where the St. Mary's Cathedral stands majestically at Pattom in the teeming metropolis of Thiruvananthapuram. Well shielded from the din and bustle of the city, St. Mary's is One of the largest schools in Asia in terms of student strength.
St. Mary's HSS has attained great heights of glory from its humble beginnings in 1940 with 12 teachers and 260 students in 9 classes. The institution was originally called 'Sachivothama Shashtyabdhapoorthy Memorial English High School". Shri. A Sankara Pillai was the first Headmaster. The Higher Secondary section was started in 1998 with 8 batches in Science, 3 in Humanities and 3 in Commerce. The school was blessed in the past with the care and concern of its founder and his efficient successors, Cyril Mar Baselios Catholicos. This abode of excellence is presently under the blessed patronage of His Beatitude Major Archbishop Moran Mor Baselios Cleemis Catholicos, the Head of the Malankara Syrian Catholic Major Archiepiscopal Church.
Our present Principal is Rev. Fr. Babu T, renowned for his dedication and dynamism. Sri. Aby Abraham renders laudable service as the Headmaster of the school. Together they lead a team of 280 highly qualified and motivated teachers, who are committed to upholding the tra¬ditional values of Indian education even as they prepare their students for a life and career in the global village.
The school has always given equal importance to academic excellence, extracurricular activities and impeccable social behaviour. It has also stressed the need for spiritual growth in the midst of material growth. This has been a model Christian institution functioning within the proud secular tradition of our great nation. St. Mary's HSS has spacious classrooms, a well stacked library. State-of-the-art laboratories, two auditoriums and several other enviable physical amenities. The school also provides transportation facilities for the students.
St. Mary's is an alma mater to over 12,000 students ranging from the Kindergarten to the Higher Secondary level. Such a mammoth strength of students in the 226 divisions is managed by a team of 400 staff. There are special classes and tutors for the differently abled students also. Counselling and career guidance programmes are organized for the students.
St. Mary's lays great emphasis on providing adequate opportunities for the all-round development of students. The school has made phenomenal progress and can boast of its campus, infrastructure and modem facilities.
We are proud of the vital contributions made by the former Correspondents, Local Managers, Principals, Headmasters, Teachers and Parents in monitoring and maintaining the high standards of the institution. The school community bows in prayerful gratitude before the Almighty for the innumerable blessings showered on it in the past.